The 2024 Sustain & Innovate Plan aims to achieve responsible growth and accompany Italy's path to sustainability and social inclusion.
The health emergency has pushed the conditions of survival of businesses to the limit, having a significant impact on a large part of the national economy and causing great social hardship. This situation requires companies to act quickly, to rethink not only products and services, but also the business models themselves, capable of connecting
people, technology, organisation and all other forms of capital within a flexible and interactive system, in which interaction itself generates value.
Companies that place sustainability at the heart of their strategies will be able to emerge better and faster from the Covid-19 crisis. This is particularly true for those companies that have always sought a balance between growth and respect for social and environmental balances in the past. Those who have integrated the creation of shared value with the territory into their business models will have a greater chance of recovery and success than those who have not.
In particular, innovation and digitisation will play a decisive role in the recovery of the economy and the social fabric.
The pandemic has, in fact, accelerated the ongoing changes that characterise the so-called "fourth industrial revolution" with the rapid expansion of e-commerce, online education, digital health and remote work. The effects of these changes – which will persist for a long time, even after the pandemic has ended- are bringing great benefits to companies. However, they also risk creating or worsening inequalities, especially in situations of digital divide, which today represents one of the greatest risks at global level – along with environmental ones, as also highlighted at this year's World Economic Forum.
Sustainability and innovation become, therefore, the pillars from which to start the recovery. In fact, the Group's new Strategic Plan "2024 Sustain & Innovate" has been based on these pillars. In line with the previous one, whose objectives were successfully achieved, the new Plan aims to bring about responsible growth and drive Italy's sustainability and social integrity through innovation and digitisation by setting financial, operational and sustainability objectives. Among the latter, particular importance is attached to the Group's objectives in fighting climate change in the short, medium and long term, aiming at becoming carbon neutral by 2030, thus contributing in advance to European objectives in this area.
Compared to what happened in 2020, due to the Covid-19 pandemic, the country found itself facing completely unexpected situations and in this particularly challenging scenario, with flexibility, responsibility and resilience, the Group renewed its support for the territory and the community, guaranteeing continuity of services and making its logistics network available to the entire national fabric. Despite the health emergency, in 2020 Poste Italiane
confirmed its leadership position in the financial, insurance and payment services sectors, as well as being the largest Italian company in the logistics sector.
Over the years, the Group has undertaken a path of constant growth that has made it stand out, above all, thanks to its ability to adapt its operating structures to the needs of the market, demonstrating, even in the most critical 6 Poste Italiane – 2020 Annual Report
phases, that it can count on a widespread presence throughout the territory and transversal skills capable of reaching the entire Community and intercepting the needs of stakeholders. The 2020 results highlight this ability to know how to manage risks and seize opportunities, generating value not only for the Company, but for all stakeholders, through a structured business model and a clear strategy.
Since its establishment, the Group has played an important role in the life of the country, positively influencing its economy in terms of Gross Domestic Product, tax revenue, employment and household income, generating revenue of approximately €10.5 billion in 2020.
The results achieved derive from the correct use of financial and non-financial capital enabling Poste Italiane to generate economic, environmental and social outcomes, thus contributing to the achievement of the United Nations Sustainable Development Goals (SDGs). The process of value creation goes through the adoption of a sustainable business model that allows the optimisation of all the above mentioned capital, integrating in a synergistic way the Business Plan with ESG objectives. In this way, the Company is able to be competitive in a constantly changing economic and social context.
POSTE ITALIANE'S SUSTAINABILITY STRATEGY
Poste Italiane has adopted a Sustainability Strategy consisting of a set of Sustainability Policies and an ESG Strategic Plan, which contributes to the achievement of national and supranational social and environmental development objectives. Within the broader strategic framework defined by the Group, this strategy is consistent with Poste Italiane's activities and business criteria.
The policies adopted incorporate all the principles, qualitative objectives and different management methods, regulating in a synergistic manner the various issues that emerged from the materiality analysis and the areas required by Legislative Decree no. 254/2016. The ESG Strategic Plan, on the other hand, includes all the specific quantitative and qualitative objectives and targets that the Group has set itself with a view to continually improving its sustainability performance.
STRATEGIC HIGHLIGHTS
Plan leveraging on emerging new trends across all businesses
Achievable financial targets and KPIs thanks to revenue growth and renewed focus on operational performance: revenues up 3% (CAGR 2019-2024)
Enhanced and sustainable dividend policy based on solid cash generation: DPS +14% in 2021 Y/Y and +6% every year over the plan horizon
Become the single point of entry for all Italians' daily needs and maximise the value of the powerful omnichannel network
Shifting from a mail centric operator into a parcel driven business, leader in the B2C segment
Half of over 11 million daily customer interactions generated from new channels (digital and third-party network), representing 12% of relevant revenues (up to 20% by 2024)
Cultivating a culture of innovation, with the new Digital Technology and Operations division to accelerate Group digitalisation, upgrading the IT architecture and migrating to Italy's largest proprietary cloud
A financial services model based on People (dedicated training), Products (enhanced product range, responding to wider customer needs) and Platform (data-driven customer profiling)
Confirming Poste Italiane's support to Italy's digitalisation, connecting the country in the new hybrid world
Delivering responsible growth, supporting Italy's transition to a sustainable low carbon economy and social integrity through innovation and digitalisation
Continuing investments in transformation and business innovation as an enabler for future growth.
FINANCIAL HIGHLIGHTS
Sustainable and competitive dividend policy linked to Group performance: baseline of €0.55 DPS for 2021 (60% pay-out ratio1, +14% vs. 2020), increasing by 6% per annum (2019 – 2024)
Group Revenue up by 3% CAGR (2019 – 2024) to €12.7bn in 2024 with positive contributions from all business segments
Operating Profit up by 5% CAGR to €2.2bn (2019 – 2024), driven by operational efficiency
Net Profit up by 6% CAGR to €1.6bn (2019 – 2024)
Customers' Total Financial Assets growing to €615bn in 2024 (2020: €569bn), supported by a changing investment product mix
Capital expenditure: record €3.1bn between 2021 and 2024 supporting transformation, with more than 60% of investments being ESG related
Steady net financial position in Mail, Parcel & Distribution -€1.9bn in 2020 to -€1.8bn in 2024, with operating cash generation supporting capex & dividend distribution.
SUCCESSFULLY EXECUTING DELIVER22
Resilient in 2020 – dividend confirmed in a challenging year
Poste Italiane has indeed delivered what was promised. Every single year over the course of the last 3 years we overachieved Net Profit targets set in 2018.
In 2020 Net Profit reached €1.2 billion, exceeding the target of €1.1 billion.
We distributed over €1.8 billion to shareholders, confirming our dividend policy even in 2020.
€ bn unless otherwise stated
2017
2018
2019
2020
Actual

DELIVER22




Obiettivi a Feb-18

Actual
Guidance
Actual

DELIVER22




Obiettivi a Feb-18

Actual
Ricavi
10.6
10.7
10.9
11.0
11.0
10.9
10,5
Ebit
1.1
1.4
1,5
1.6
1.8
1.6
1,5
Utile Netto
0.7
1.0
1,4
1.1
1.3
1.1
1,2
Dividendo per Azione (€)
0.42
0.44
0,44
0.46
0.46
0.486
0,486

Raggiunto


Superato
REVENUES
EBIT
NET PROFIT
DIVIDEND PER SHARE (€)
Deliver22 operational achievements
A customer centric business model
n the last three years we successfully transformed Mail & Parcel, shifting from a pure mail, which faces a secular decline, to a parcel driven business, becoming market leader in B2C.
In Financial and Insurance, we built a comprehensive open platform for savings, insurance and investment products, to meet all clients' needs which we now understand better thanks to a wider-spread profiling of all our clients.
With more than 8,000 financial advisors and 30,000 tellers, we served all our clients, with increasingly targeted, financial, insurance and payment products.
On Payments & Mobile, since PostePay's foundation in 2018, our vision proved successful, affirming Poste as the key player in the Italian payments' market, also by offering a unique platform, integrating payments and telcos.
Over the last 3 years we have constantly renewed our offer, introducing innovative services and products, which have further consolidated our brand. And we continue to look ahead, with new value-added services.
POSTE ITALIANE GROUP
LA PIÙ EFFICACE E AFFIDABILE RETE DISTRIBUTIVA
MAIL & PARCEL
Unrivalled distribution network
FINANCIAL & INSURANCE
Comprehensive platform for all clients' financial needs
PAYMENTS & MOBILE
Unique digital ecosystem
Successful restructuring of mail network to exploit e-commerce opportunities
A controlled open platform for savings, insurance and investment products to meet evolving customers' financial needs
Key player in the Italian payments market

Consolidating mail market to address ongoing mail decline
Optimised customer and sales coverage with 8k financial advisors and 30k tellers
Distinctive platform integrating payments and telco

B2C Market share (r. #1) 36.7%
Life insurance market share (r. #1) 14.7%
Cards issued (r. #1) 28.9M

Market share in mail (r. #1) 89%
Total financial assets €569bn
Digital wallets (r. #1) 7.4M

Market share e-commerce transactions (r. #1) c.25%
The first half of 2020 was a defining moment in the history of the country and the Company. The benefits of business diversification and operational resilience were confirmed in the emergency of the environment created by the Covid-19 pandemic.
Thanks to its business model, Poste Italiane has been able to guarantee operational continuity, ensuring an uninterrupted service to its stakeholders and showing a strong ability to adapt even in a critical and unfavourable scenario such as the current one.
In this context, the extensive collaboration with national institutions continued, making the Company's operational know-how available to support the logistical activities of the Civil Protection, which are fundamental in the emergency scenario.
Poste is an important engine of innovation and digitalization of Italy, connecting the country in a NEW HYBRID WORLD.
In more than 150 years our Postine and Postini and our Post Offices, have been the main physical connections in the country. Now, we aim to become the single point of entry for all Italians daily needs. Along this path, we are the only company able to link Italian SMEs, Public Administration and citizens.
We further strengthened our partnership with Microsoft to provide innovative digital services to Italian companies and public administration, supporting and facilitating SMEs growth in Italy.
We play a primary role in transforming the e-commerce landscape. In 2020, 37% of overall B2C deliveries went through our network, with 210 million parcels delivered and almost 400 million e-commerce transactions via our payments tools.
We are also committed to reinforce the relationship between individuals and Public Administrations, with over 15 million public digital identities – SPID – with a national market share of above 80%.
Commenting on the new plan, Matteo Del Fante, Chief Executive Officer and General Manager, said:

"With our '24 Sustain & Innovate' ('24SI') Plan, we are able to build and grow on the solid foundations put in place with Deliver22 with achievable targets across all our four businesses. Revenues will grow steadily throughout the plan, with EBIT and Net Profit increasing 5% and 6% CAGR respectively, generating €0.4 billion of incremental EBIT between 2019 and 2024. After a step up of 14% in 2021, the dividend per share will benefit from a 6% annual growth. The turnaround in mail and parcels is fully underway and it is the first time parcels will represent a higher revenue proportion than mail, while we will become a fully-fledged logistics player with a sustainable business. In financial and insurance services, the priority is to become the main reference point for all customers' needs, from savings to insurance and loans, attracting them with data driven advisory across all Poste's distribution channels. We will leverage cross and up selling expertise in Payments & Mobile, confirming the leadership in digital payments, introducing broadband connectivity and entering the power and gas market in 2022 with a fair, competitive and customer friendly offering.

Our strategic foresight in creating a cloud-based architecture, leads the Group to be Italy's number one cloud services user. We are delivering new products and services that will help our customers, businesses, the Public Administration and the country as a whole for years to come, with the commitment in creating significant value for all stakeholders.

Confirming the relevance of the environmental topics for our strategy, Poste Italiane will become a net zero emission company by 2030.

Our people have proved to be a cornerstone of our success and we will continue to invest in their skills. We are proud of our key role in the countrywide vaccination plan, with about 2 million vaccine doses already delivered supporting the Italian Army's operations thanks to our cloud native technological platform.

The '24SI' plan transforms challenges into opportunities thanks to the robustness and flexibility of our strategic approach to business. We will confirm with a 'yes' our promise to achieve our 2024 targets.

Poste Italiane is the Italy's most valuable engine of innovation and digitalisation, linking customers, citizens, businesses and the Public Administration physically and digitally."
The engine of innovation and digitalisation
Connettere l'Italia nel nuovo mondo "ibrido"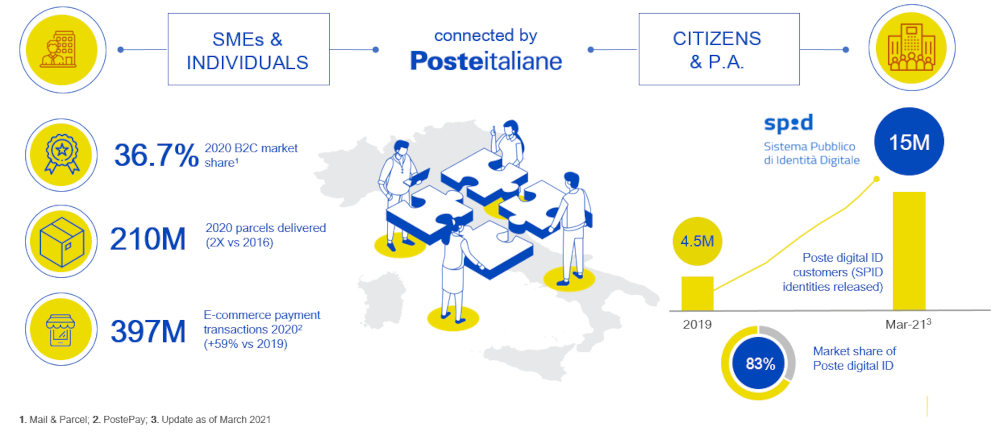 Integrating Sustainability within Poste Italiane's Strategy
To be sustainable for Poste Italiane means defining a clear strategy on ESG issues and struc­turally incorporating them within the strategic objectives set in the "2024 Sustain & Innovate Plan1. Over the period of the plan, €3.1 billion of investment is envisaged in strategic assets, in order to achieve financial objectives.
1 The financial and operating objectives shown in the tables refer to 2024.
"2024 Sustain & Innovate" Strategic Plan
Mail, Parcel and Distribution

The strategic objective of Mail, Parcel and Distribution segment is to accelerate its transfor­mation from a pure mail operator to a full logistics operator, ensuring the economic and environ­mental sustainability of its operations. Implementation of the strategy is based on streamlining of the distribution networks, including the integration of Nexive, acquired at the end of 2020, consolidation of leadership in the B2C market and growth in the C2X and B2B segments through the introduction of specific offers and initiatives aimed at improving the customer expe­rience. Through the implementation of these strategic directions, the segment aims to achieve operational break-even by 2024 and an operating profit in 2025.
FINANCIAL OBJECTIVE
Revenue: €3.9 billion (2019: €3.5 billion), with an increase in revenue from the Parcels segment, and easing of the decline in the Mail segment.
Parcels segment: €2.0 billion (2019: 0.85 billion).
EBIT: expected operating break-even by 2024.
operating objective
Double the volume of automatically sorted
parcels.
B2C parcels market share: 38% by 2024.
C2C market share: 57% by 2024 (2019: 41%).
market context
The postal services market is going through a phase of radical change, primarily linked to the digital transformation, which has influenced the volume of letters and parcels in circulation. The ongoing structural decline in traditional mail, replaced with digital forms of communication (e-mail, instant messaging, etc.) is accompanied by a significant increase in the volume of parcels delivered.
In addition to these trends, during the year, there was an even more significant decline in mail with historical trends due to the lockdown caused by the health emergency, which caused a general slowdown in the Italian economy.
With reference to the parcels sector, the pandemic, as a result of the change in buying habits of Italians, has generated an acceleration of the growth trends already foreseen in the 2018-2022 business plan.
E-Commerce confirmed as the key driver of growth in the parcels segment, mainly for light and low-value items1 . Specifically, in Italy, there was a volume of parcels per capita of 6 units2 in the year 2020 compared to 4 units in 2019.
Moreover, the percentage of retail purchases made online went from 4% in 2015 to over 7% in 2019, reaching about 9%3 in 2020), and growth remains compared with the double-digit growth rates registered in the main European countries. Poste Italiane is confirmed as one of the leading operators in the sector with a market share in the B2C segment from 30% in 2017 to 37%4 in 2020.
1 Source: Report IPC and other postal/logistics operators.
2 Source: Internal processing, on Osservatorio eCommerce B2C – Politecnico Milano data.
3 Source: Osservatorio eCommerce B2C – Politecnico Milano/Netcomm data.
4 Source: Internal processing based on Cerved Databank, Netcomm data.
Payments and Mobile

The Payments and Mobile area aims to establish itself as a complete and omni-channel platform for its customers, flanking the traditional business lines of payments and telecommunications with an offer dedicated to Energy from 2022, a market which the company will enter by taking advantage of its liberalisation. The expansion of products, together with the ability to exploit physical and digital channels and third-party networks, will make it possible to fully exploit cross-selling opportunities for customers, thereby increasing value for Poste Italiane as a whole.
FINANCIAL OBJECTIVE
Revenue:€1.9 billion (2019: €0.7 billion).
EBIT:€0.4 billion (2019: €0.2 billion), with CAGR of 1%.
operating objective
Expected Postepay Evolution portfolio of 11.6 million cards issued.
Expected card transactions as CAGR up 14%, to reach €2.7 billion.
MARKET CONTEXT
The latest figures available1 on the Italian payment card market reflect the strong reduction in economic activity and consumption on physical channels resulting from the lockdown due to the global health emergency and show overall transactions of around €186 billion in September 2020 (-1.1% compared to September 2019).
Credit cards are the most affected type, with a decline in transactions of 13% compared to the same period last year. Prepaid cards continue to grow at a strong pace with transactions up 16% and transaction volume up 19% compared to the first nine months of 2019, partly due to cards issued for Citizenship Income, as well as total transactions and debit card transactions which grew 2% and 0.5% respectively compared to the first nine months of 2019.
The number of cards active on the market exceeded 91 million (+1% compared to 31 December 2019) of which: debit cards amounted to over 46 million (+1.2% compared to 31 December 2019), prepaid cards to over 29 million (+1% compared to 31 December 2019) and credit cards to over 15 million (+0.4% compared to 31 December 2019).
According to the latest available figures2, Mobile telephony market penetration, in terms of total mobile lines, stands at approximately 173% of the population, with MVNOs (Mobile Virtual Network Operator)3 accounting for 16.1%. The total number of lines at 30 September 2020 amounted to 104.1 million, including approximately 26.3 million Machine to Machine (M2M) SIM cards. PosteMobile, with a total market share of approximately 4.2%, accounts for around 45.0% of the total customers of mobile virtual network operators.
1 Source: Internal processing and estimates on Bank of Italy data (supervisory reporting flows).
2 Source: AGCom Communications Observatory no. 4/2020, Operators Report.
3 Source: Internal Estimate PostePay – Administration, Planning and Control.
Financial Services

Financial Services aims to further evolve its service model by combining the traditional physical model with the opportunities provided by technological innovation. The priorities of the Strategic Plan include growth in wealth management, thanks to the diversification of customer portfolios to optimise their risk-return profile, the integration of non-life policies within the advisory model and a renewed focus on loans, with particular emphasis on the CQS segment, also thanks to partnerships signed with leading operators in the sector.
FINANCIAL OBJECTIVE
Revenue: €5.9 billion (2019: €5.8 billion).
EBIT: €0.7 billion (2019: €0.9 billion).
Common Equity Tier 1 Capital: 17%.
operating objective
Total financial assets: a rise to €615 billion from €569 billion in 2020, with increased penetration of life products.
contesto di mercato
FINANCIAL MARKETS
The year 2020 ended with positive performance across many asset classes, both government and riskier securities. Monetary and fiscal intervention marked the reversal point of market performance in 2020 and will continue to dominate the scene this year at least until the real economy returns to a robust growth path. The spread of the Covid-19 pandemic resulted first, in a massive recomposition of investors' portfolios towards safer assets. In the financial markets of advanced countries, since the end of February 2020, severe turbulence has affected all sectors, in a context of high risk aversion, which then rose again significantly in the second quarter of 2020. The intervention of economic policy, with the coordinated action of central banks and governments, has favoured the fall in interest rates and credit spreads, as well as the rise in share prices.
In the summer months, the European stock markets remained stable, while in the American and Chinese markets, the recovery continued, leading the indices to exceed the values recorded at the beginning of the 2020. The third quarter of 2020 saw equity prices continuing to rise, albeit at a more moderate pace than the previous quarter, thanks to confirmation of signs of economic recovery. The trend in the markets changed last autumn due to fears of a second wave of contagion that was stronger than the first and ahead of expectations. The phase of risk aversion also involved the USA, mainly due to the lack of agreement on new measures to support the economy before the presidential elections, although prices nevertheless remained above the levels of the beginning of 2020, thanks to the strong rise in technology stocks recorded during the previous months.
In the last two months of 2020, the discovery of Covid-19 vaccines, the US presidential election and the Brexit deal supported share prices, which also rose thanks to continued improvement in short-term expectations. In the United States and Japan, prices exceeded pre-Covid-19 pandemic levels, while recoveries in the Eurozone are still incomplete. In the January-December 2020 period1, the S&P 500 and Nikkei 225 gained 15.86% and 16.01%, respectively, while the EuroStoxx 50 lost 4.72%.
The joint action of the central banks has drastically reduced volatility in the money market. The high levels of liquidity available on affordable terms and the removal from the market, through Quantitative Easing (QE)2, of large issues of short-term government bonds have created the conditions for a normalisation of the spread between market LIBOR rates3, OIS4 and the rates on FED Funds5.
1 Period from 30/12/2019 to 30/12/2020.
2 Quantitative easing is an unconventional monetary policy measure consisting of asset purchases to support economic growth and deflation.
3 LIBOR (London Interbank Offered Rate) is the short-term interest rate for the major eurocurrencies on the London interbank market.
4 The Overnight Index Swap (OIS) is a swap, in which the buyer pays the pre-determined fixed rate and collects the weighted average variable rate E.O.N.I.A. (European Overnight Indexed Average) set daily during the reference period. The LIBOR-OIS differential (i.e. the spread between the two values) is an important market indicator, as it measures the risk and liquidity of the money market. If the spread is high (when LIBOR is high) it is an indication of little inclination to lend money, while a low spread indicates a high level of market liquidity.
5 Very short-term interest rate, in the U.S. federal funds market, in which excess reserves held by credit companies at the Federal Reserve are exchanged.
Insurance Services

In Insurance Services Poste Italiane aims to establish itself as an insurance operator capable of serving all customers' investment and protection needs. Poste Vita aims to confirm its position as leader in the life insurance sector, continuing to offer customers safe products that are both more profitable and more capital efficient. Lastly, the non-life insurance strategy envisages an increase in profitability thanks to the modular offer, supplemented by car insurance, provided to customers without assuming risk thanks to distribution agreements signed with leading Italian insurance companies.
FINANCIAL OBJECTIVE
Revenue: €2.7 billion (2019: €1.7 billion).
EBIT: €1.3 billion (2019: €0.8 billion).
Net profit: 5% CAGR in the period 2019-2024.
Solvency Ratio: >200%.
operating objective
Gross premium revenue: €26.5 billion (2020: €16.7 billion).
Double the average premium of the modular offer.
8.000 post offices enabled to sell car policies by 2024.
contesto di mercato
LIFE BUSINESS
Based on official figures available at the end of December 20201, new individual and group Life business of €84.2 billion at the end of December 2020 declined by 6.5% compared to the same period in 2019.
If new Life business reported by EU companies is also taken into account, the figure reached €96.2 billion, down 7.4% compared to 2019. Analysing the figures by class of insurance, Class I premiums amounted to €55.3 billion at the end of December 2020, down 11.6%, given the health emergency, compared to the previous year. However, the decline is smaller than that recorded in the first half of 2020 (-19.8% compared to the same period in 2019).
The performance of Class III products was up (+3.4%) compared to the 2019 figure, reflected in inflows of €24.5 billion at the end of 2020, whereas inflows of capitalisation products (€1.7 billion) recorded a significant decrease (-24.2%) at the end of 2020 compared to the previous year, due to the decline in both individual and collective policies. The trend in new premiums relating to long-term health policies (Class IV) continued to be limited (approximately €68 million), and slightly up (+0.2%) compared to 2019.
New contributions relating to the management of pension funds at the end of December 2020 amounted to €2.7 billion, a significant increase (+72.4%) compared to 2019.
Single premiums continued to be the preferred form of payment for policyholders, representing 94.8% of total premiums written and 61.9% of policies by number.
With regard, finally, to distribution channel, around 64.7% of new business was obtained through banks and post offices, with premium revenue of €54.5 billion, down (-9%) compared to 2019. On the other hand, with regard to the entire agency channel, the volume of new business distributed reached €17 billion at the end of December 2020, substantially in line (+0.8%) compared to the figure for 2019 and with an incidence on total intermediated business of 20.1%.
The performance of new business obtained through qualified financial consultants was €11.3 billion, down (-7.3%) compared with the figure for the previous year and with an incidence compared to the total of intermediated premiums equal to 13.5%.
Finally, the broker and distance sales channel recorded growth at the end of 2020 of 20.3% compared to 2019, with a volume of premiums placed of €1.4 billion (or 1.7% of the total brokered)
1 Source: Ania Trends, new Life business (December 2020).